Shandong Fuji Passenger /home elevator /lift with machine room of japan technology
Product Description
         Shandong FujiyZY Passenger /
Home Elevator
/lift with machine room of japan technology    1.elevator parameter and specification table   Small machine room
Passenger Elevator
Rated Loading Capacity

Rated Speed

Cab Size

Width*Depth

Door Size

Width*Height

Shaft Size

Width*Depth

Machine Room Size

Min Overhead

 

Pit Depth

kg

m/s

mm

mm

mm

mm

mm

mm

 

630

1.0

1400*1100

800*2100

1900*1850

1900*1850

4400Min

1500Min

1.5

4600Min

1600Min

1.75

4700Min

1700Min

 

 

800

1.0

 

 

1400*1350

 

 

800*2100

 

 

1900*2100

 

 

1900*2100

4400Min

1500Min

1.5

4600Min

1600Min

1.75

4700Min

1700Min

2.0

5000Min

2000Min

1000

1.0

 

1600*1400

 

900*2100

 

2100*2150

 

2100*2150

4400Min

1500Min

1.5

4600Min

1600Min

1.75

4700Min

1700Min

2.0

5000Min

2000Min

2.5

5000Min

2200Min

3.0

5500Min

2600Min

4.0

6500Min

3800Min

 

 

1150

1.0

 

 

1800*1400

 

 

1000*2100

 

 

2300*2150

 

 

2300*2150

4400Min

1500Min

1.5

4600Min

1600Min

1.75

4700Min

1700Min

2.0

5000Min

2000Min

2.5

5000Min

2200Min

3.0

5500Min

2600Min

4.0

6500Min

3800Min

 

 

 

1250

1.0

 

 

 

1800*1500

 

 

 

1000*2100

 

 

 

2300*2250

 

 

 

2300*2250

4400Min

1500Min

1.5

4600Min

1600Min

1.75

4700Min

1700Min

2.0

5000Min

2000Min

2.5

5000Min

2200Min

3.0

5500Min

2600Min

4.0

6500Min

3800Min

 

 

 

1350

1.0

 

 

 

2000*1500

 

 

 

1100*2100

 

 

 

2500*2250

 

 

 

2500*2250

4400Min

1500Min

1.5

4600Min

1600Min

1.75

4700Min

1700Min

2.0

5000Min

2000Min

2.5

5000Min

2200Min

3.0

5500Min

2600Min

4.0

6500Min

3800Min

 

 

 

 

1600

1.0

 

 

 

2000*1750

 

 

 

1100*2100

 

 

 

2500*2500

 

 

 

2500*2500

4400Min

1500Min

1.5

4600Min

1600Min

1.75

4700Min

1700Min

2.0

5000Min

2000Min

2.5

5000Min

2200Min

3.0

5500Min

2600Min

4.0

6500Min

3800Min
  2.Machine room-less passenger elevator  
Rated Loading Capacity

Rated Speed

Cab Size

Width*Depth

Door Size

Width*Height

Shaft Size

Width*Depth

Min Overhead

Pit Depth

kg

m/s

mm

mm

mm

mm

mm

 

630

1.0

 

1100*1400

 

800*1200

 

2000*1900

4300Min

1700Min

1.5

4500Min

1700Min

1.75

4500Min

1700Min

 

800

1.0

 

1350*1400

 

800*1200

 

2300*2050

4300Min

1700Min

1.5

4500Min

1700Min

1.75

4500Min

1700Min

 

1000

1.0

 

1400*1600

 

900*2100

 

2350*2150

4300Min

1700Min

1.5

4500

1700

1.75

4600

1700

 

1150

1.0

 

1400*1800

 

1000*2100

 

2500*2300

4300

1700

1.5

4500

1700

1.75

4500

1800

 

1250

1.0

 

1500*1800

 

1000*2100

 

2600*2300

4400

1700

1.5

4500

1700

1.75

4500

1800

 

1350

1.0

 

1500*2000

 

1100*2100


2700*2500

4400

1700

1.5

4500

1700

1.75

4500

1800
    2. Construction parameters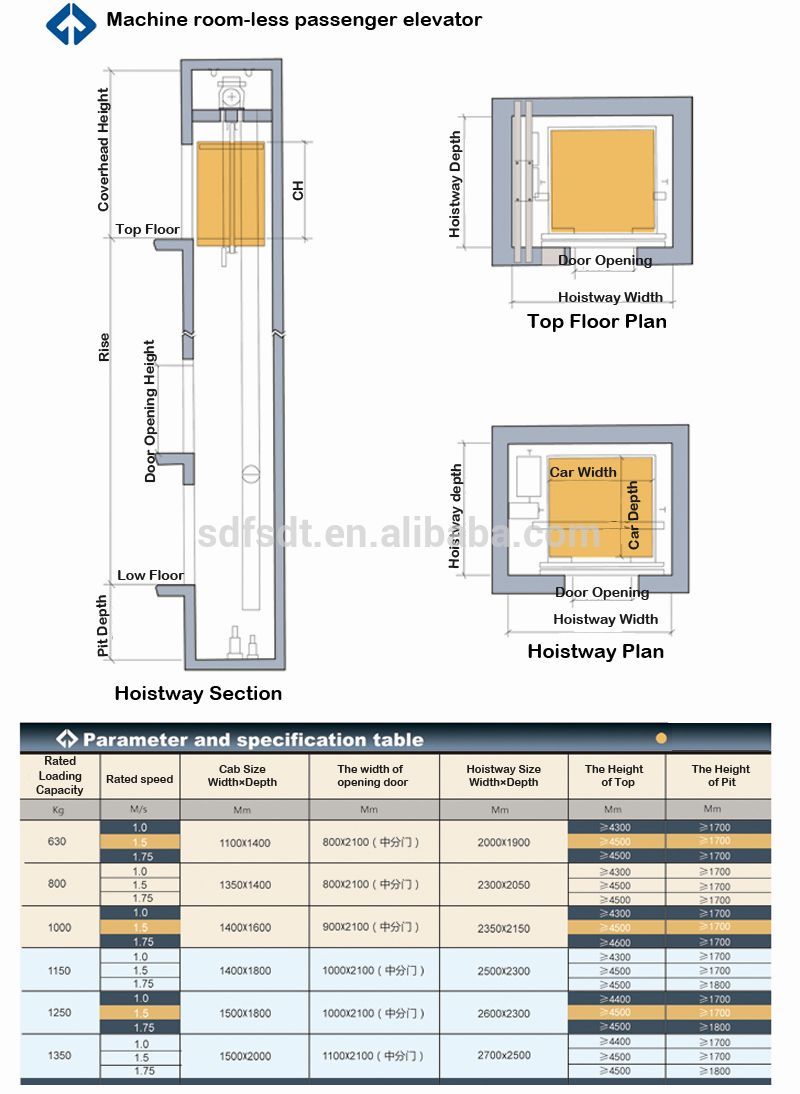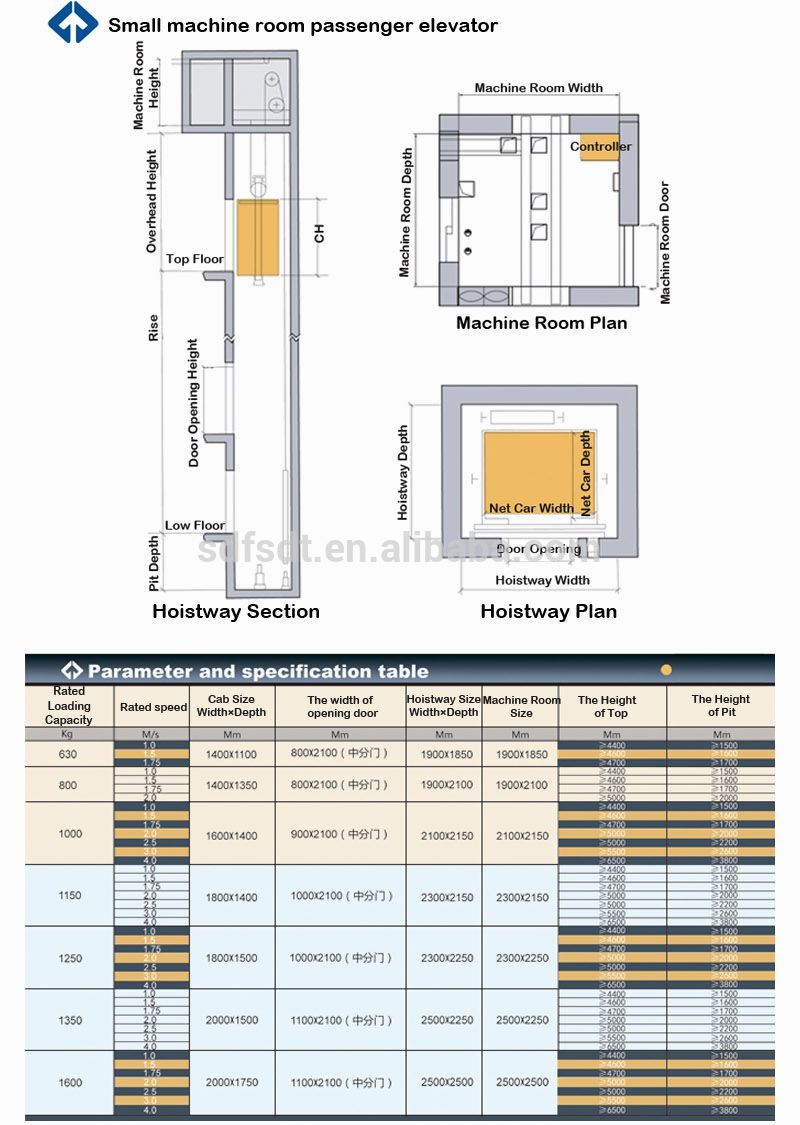 3.Standard configuration of operation box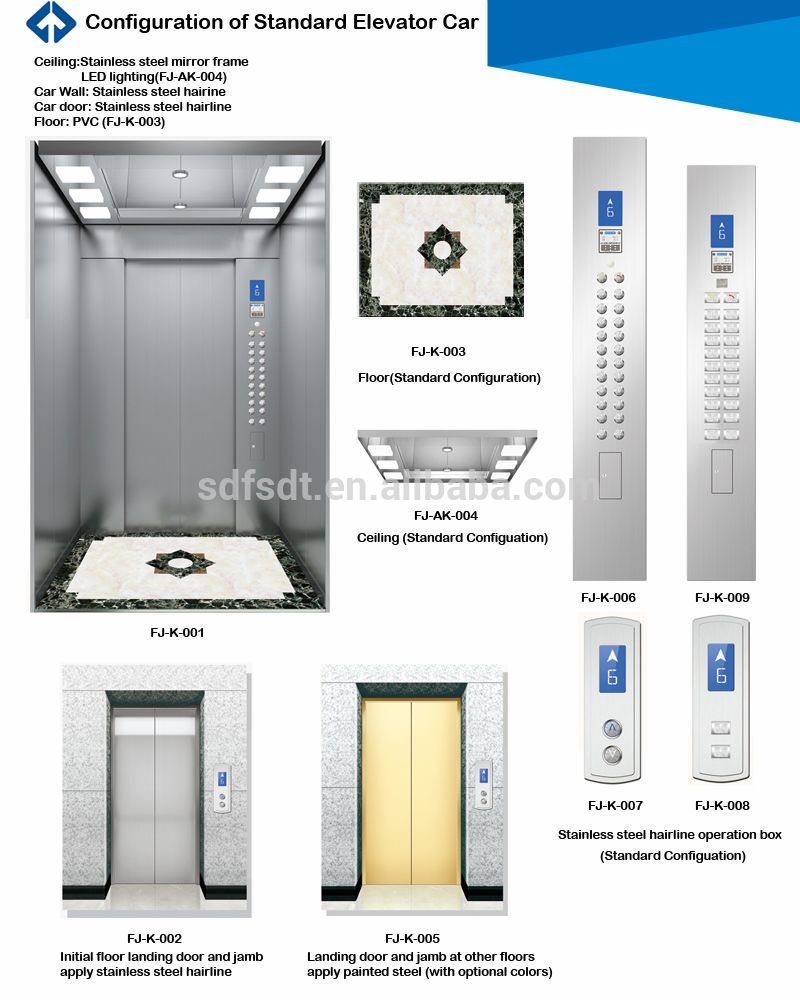 4.Car decoration of freirht elevator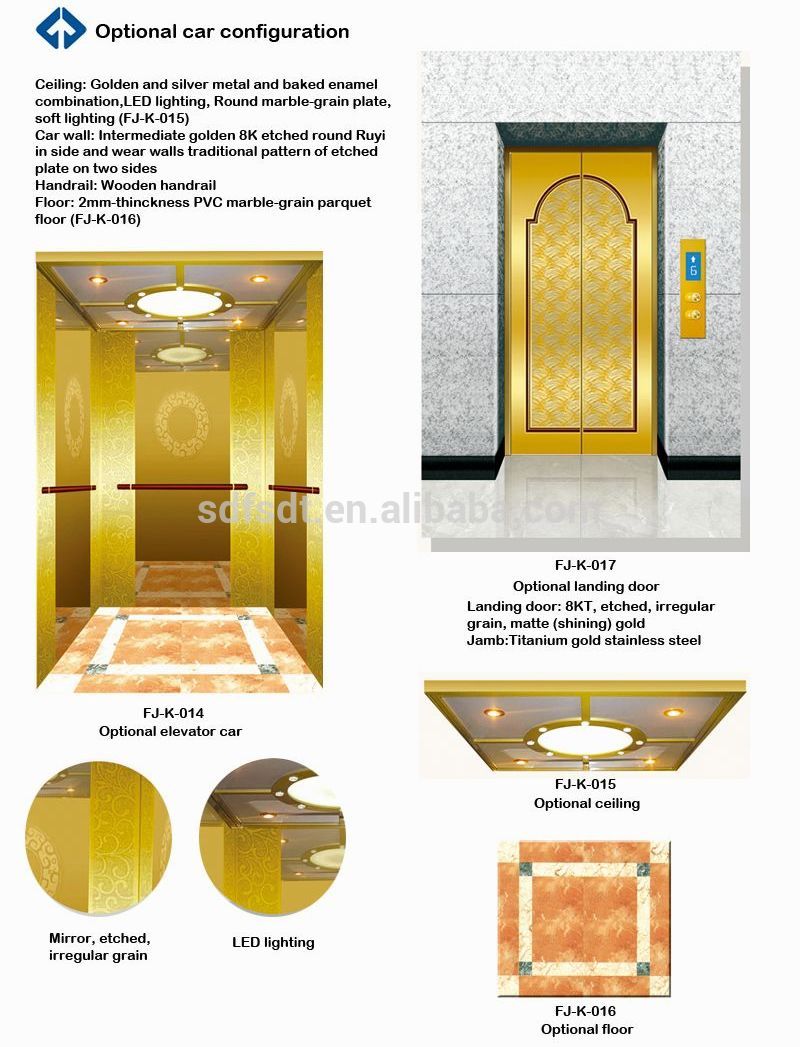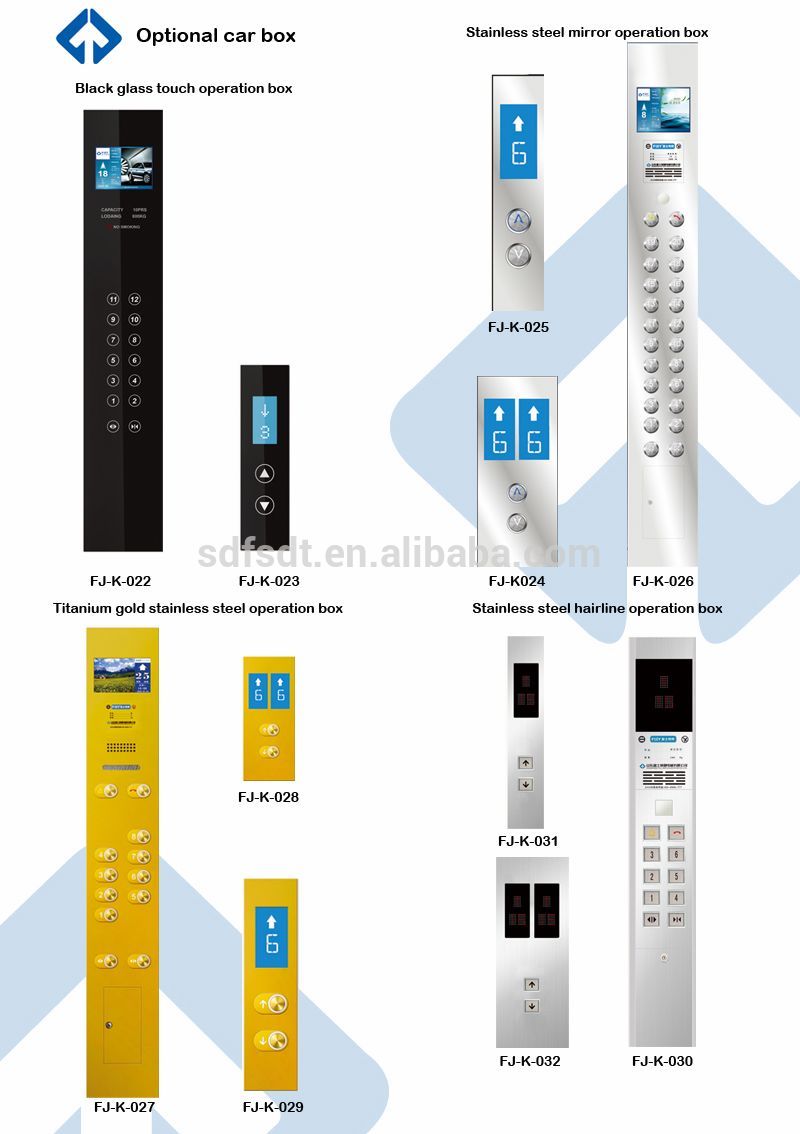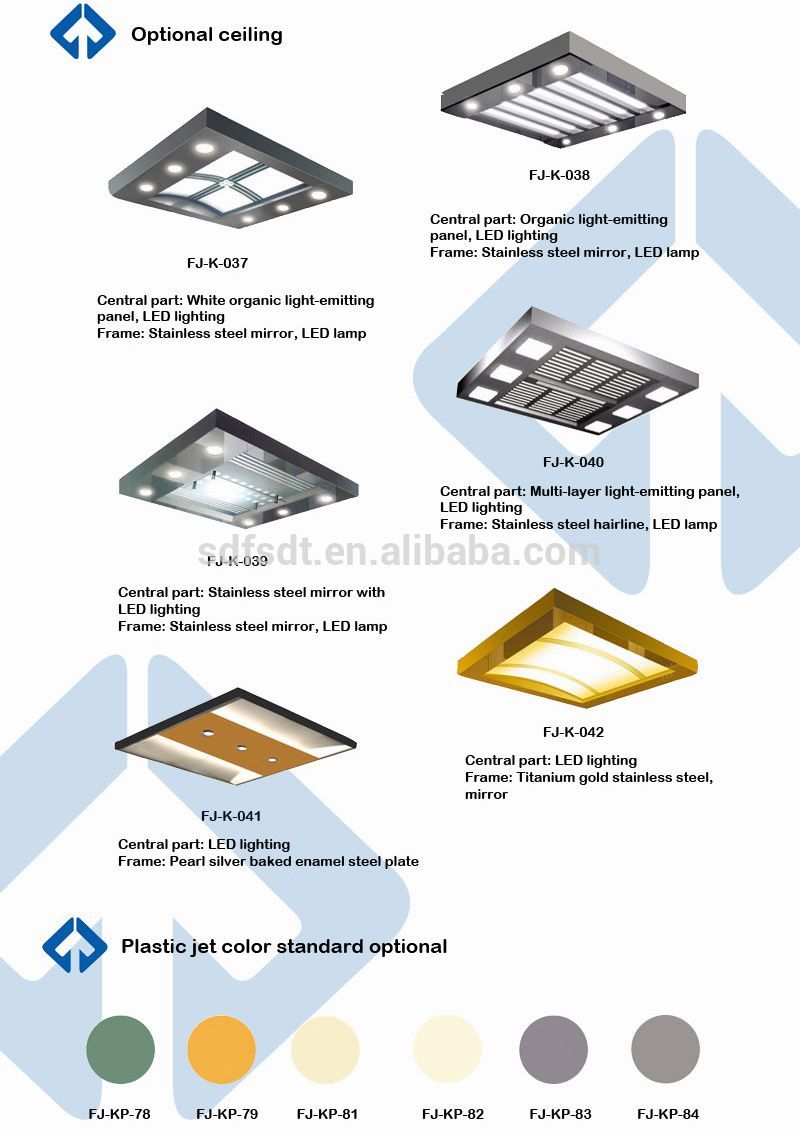 5.parts pictures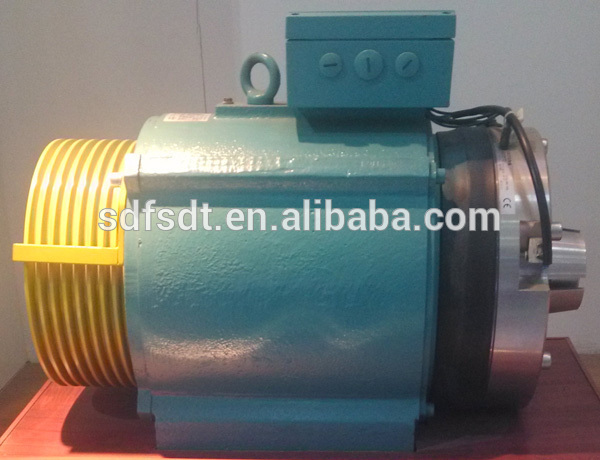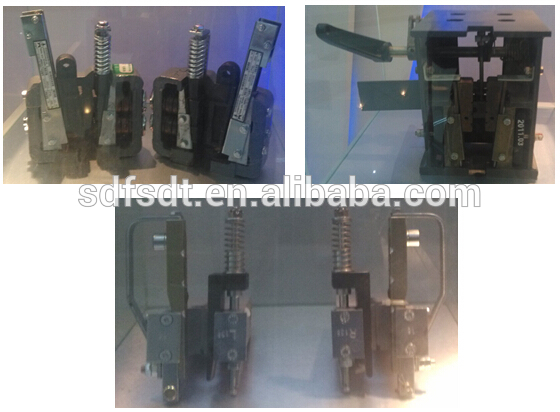 6.Qualification certificate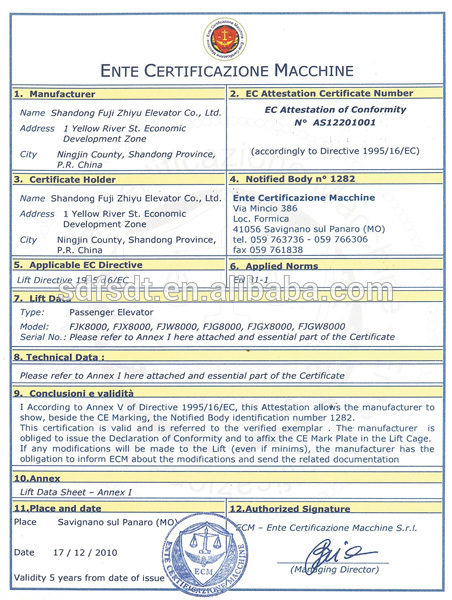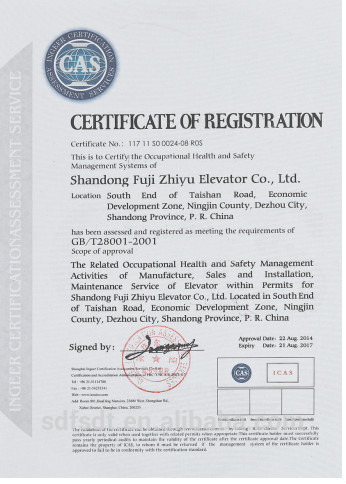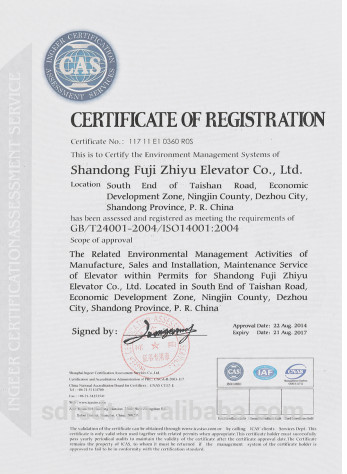 7.Packaging & Shipping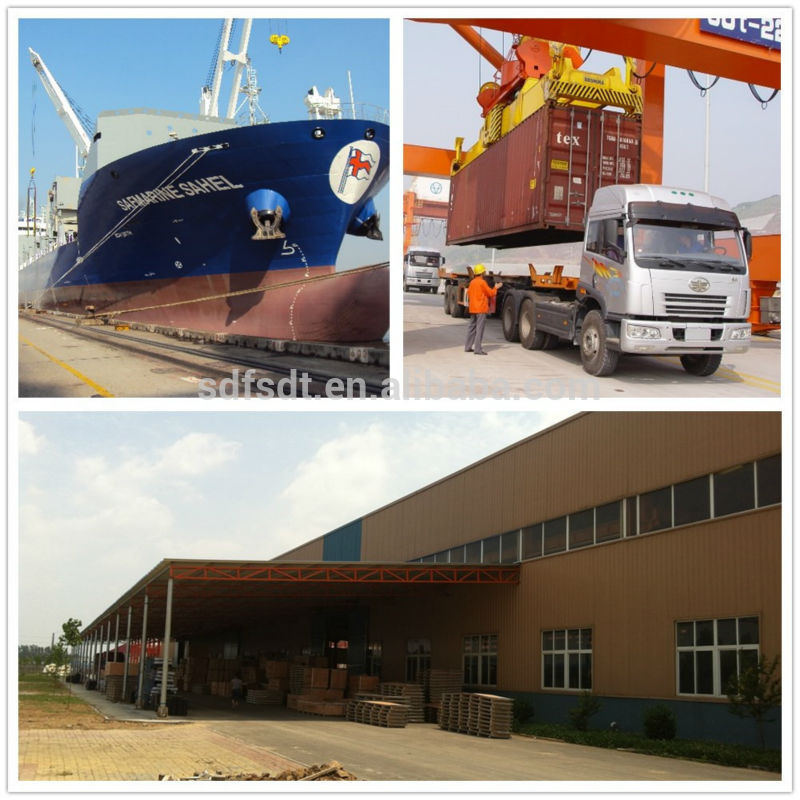 8.Exhibition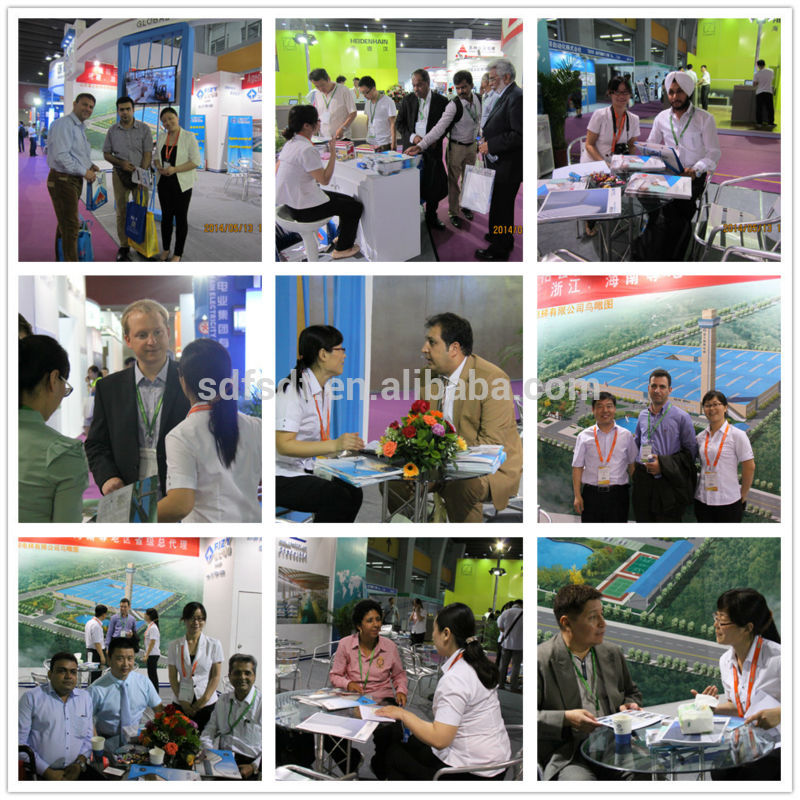 1.Small machine room passenger elevator   
small machine room passenger elevator
Provides the passengers with more and more available spaces.
Machine room has same size as that of the well .Its machine room is only half of ordinary one .(It is calculated by machine room of single elevator .)It is gretly convenient for the construction layout. It effectively enhances utilization rate of the building area of the construction. It provides the clients with more and more free and availiable spaces.
It machine half of the constrution area.It enhances utilization rate of urban space.
It saves the building cost.
It only requires 2800mm of machine room height. It reduces over 20% of height than of ordinary machine room .It saves the building cost. Developing trend of the elevator industy.
It is backed with the advantage of FJZY motor in energy consumption and space solution plan . Host of Shandong FJZY small room elevator applies permanent magnet principle. It does not consume heat energy in drive process .It is energy-saving and environment protection .It need no oiling and maintenance .Machine room is the same as the well.It is developing trand of elevator industry in future.
With the VVVF frequency conversion technology, peration curve of the door operator could be adjusted at will. The door system is important for improving overall performance of elevator and comfort of passengers.   The AC permanent magnet synchronous door system does not have a reduction device and enjoys flat structure, adopts a design of double closed-loop vector control in speed and current, which is characterized by large output torque at low speed, stable operation, low noise, efficiency and energy saving.   Because of flat structure and no reduction device, appearance of